HAY HAY HAY HAY!
(READ IT ALL (: )
Sparky ish back on a le fourms!
Basicly I get people to say if they want me to chibify them and then i put every 1 who says they wanted and draw them all in a group interacting and stuff (:
ok, noow if you want me to chibi you just post a message here saying what you look like, or what u want to look like (e.g. if u have brown hair and blue eyes u can say u want me to give u white hair and pink eyes or w.e)
alright, got it? you sure? want me to repeat it? well im not going to (:
over and out (the door) Sparky (:
P.S. the chibis will look a bit diffrent this time, but migth keep this style
p.s. this is what Avatar Portal Chibi 1 looked like (: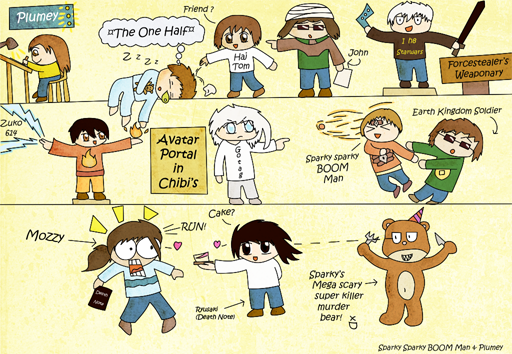 List of doooom:
:RongNuShii
:Tera253
:SparkySparky BoomMan
: DisasterPiece
:SOTS
:Gotag
:Lotus Ashs
:SinisterTactics
: Rachael
: FTW
: EK-S
CLOOOOOOZZZED!