WELCOME TO OUR GLORIOUS TRIBE
I'm taking over since Rajas isn't coming anymore, so YES this is a new thread, anyone who wants to join the water tribe then post here, and represent!!

Ways of our Tribe
1. Respect each other, we are a tribe, and as a tribe we should all be as one. No criticizing other members and/or making jokes about them.
2. You can join any other clubs that you want,
BUT
you can only join ONE nation. Meaning you cannot be in the Water Tribe if you already belong to the Fire Nation. You must be loyal.
3. Only talk about anything that's Water Tribe here, you can talk about the water that you drank today or just talk about Katara. As long as it's WATER TRIBE! I don't want to hear about other nations and their duties unless it's important.
4. All members of the Tribe cannot go into other nations thread and spam or start conversations. Please respect other nations and don't go into their threads unless you have something IMPORTANT to say, or authority from me. Don't make jokes about other nations and don't insult them. *This also goes for people from other nations as well*
Those are all the rules.
----------------
*
Note:
You may ask yourself, "What are those really weird names written everywhere?" Well those are the names I put for some people and/or ranks. After all, those are real tribal names with real meanings from Cherokee or Navajo dialects. We just want it to make it feel more tribe-ish.
----------------
Images for your sig or avvie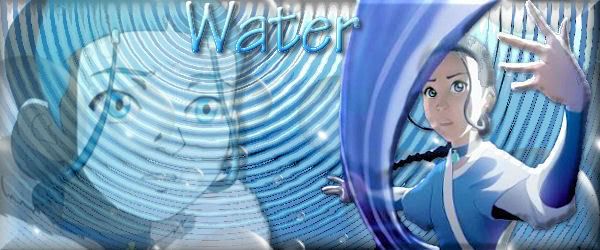 All images are provided by Rajas and I (but the ones I got aren't mine, I just found them so I take no credit for it)
Rankings


We'll have leaders, master waterbenders, normal waterbenders, soldiers, followers and students for each of our villages. (you move up by rank depending how we'll you're doing)



Water Chief

:
Kumani (Northern Water Tribe)



Students

:
The Rain Dancer
aparider
Hamico
Cherrigirl7
oldbenkenobi [size=75](Southern Water Tribe)
Steppin' Razr'
(Southern Water Tribe)
reiks
kataangshipper4eva
multytask
zeatra
foamingmouthguy
Water-M Storm
shotzgoboom
Shadoweye T_T
avatarknife
veggie
Dragon of Ash
(Foggy Swamp)
WaterBoy
scourge118
avatarox
Metallica1554
~Waterbending_Monk(Northern Water Tribe)
powerofinsanity (Foggy Swamp)
Rachael
Followers
koryuelric
(Foggy Swamp)
Bfb
(Northern Water Tribe)
katara022
(Southern Water Tribe)
yue
(Northern Water Tribe)
Soldiers
umi doragon
(Foggy Swamp)
kiara
(Northern Water Tribe)
Miss Momo
(Southern Water Tribe)
Waterbenders
Nismo (Northern Water Tribe)
Losty (Northern Water Tribe)
sokkazgurl (Foggy Swamp)
***You can also pick what group you would like to be in, meaning:
The Nothern Tribe, The Southern Tribe or The Foggy Swamp. Dakelh (water travelers), Gayogohono (swamp people)***
The Water Tribe Militia
If you would like to join our water tribe Military/ Navy and be a proud soldier of our tribe then
click here
and post that you would like to join.
*Remember: you have to be a member of our tribe in order to join!*
Allies
The Earth Kingdom

The Fire Nation

The Air Nomads

We are a great known society that adapts quickly to our surroundings, so relax, take a chill pill and make a chair out of ice. Start joining my fellow water lovers!!