From ASN:
Description:
An internal style like Tai Chi, Ba Gua is based around the eight trigrams of the Yijing. ?Baguazhang? translates into ?eight trigram palm.? These can refer to the eight animals which Ba Gua movements are based on; Lion, Snake, Bear, Dragon, Phoenix, Rooster, Qilin, and Monkey. ?Circle walking? is used to train stance and movement. This teaches the practitioner how to move and change direction without pausing or losing momentum, as well as staying behind the opponent?s back.
The Ba Gua style of kung fu is what helps our favorite Avatar Aang fight the forces of the Fire Nation. Using its array of circular, whirlwind motions, Aang is able to defend himself and his friends.
Other Information:
BaGua is also called PaKua. And the philosophy is summed nicely as follows:
"Wisdom, Benevolence, Sincerity, and Bravery"
These four words comprise the motto of Master Bok-Nam Park's Pa Kua Kung Fu School and the Ch'iang Shan Pa Kua Chang Association. They represent four important ideals that Lu Shui-Tian believed all Pa Kua Chang (Ba Gua Zhang) practitioners must cultivate and embrace.
Wisdom - because without wisdom, a student will not be able to grasp the depth of Pa Kua Chang and will not be able to develop his or her understanding to a high level. Wisdom is required to make progress; the student must "think deeply" and research thoroughly.
Benevolence - because without benevolence, a student's pride, ego, or arrogance takes control. The Pa Kua Chang practitioner must remain humble, show respect to everyone, and promote goodwill towards others. And, Pa Kua Chang must never be utilized in an improper or unjust manner. Benevolence is required and grows with the cultivation of wisdom.
Sincerity - because without sincerity and a serious commitment to training, a student will not make sound progress and will not be able to develop his or her skill to a high level. The student must dedicate himself or herself to the art, and must honor the heritage of the Pa Kua Chang of Lu Shui-Tian and Master Park. Lu Shui-Tian stated that "the instructor does not teach the student; the instructor merely presents knowledge and ideas -- the students, in truth, teach and train themselves." Sincerity is required and grows with the cultivation of wisdom and benevolence.
Bravery - because without bravery, a student will lose his/her skill in a confrontation. A student needs to remain calm and clear whether facing an opponent in a sparring session or in a serious fight, and must learn to conquer and control his or her own fear. To understand Pa Kua Chang completely, the student must study and research the fighting side of Pa Kua, as well as the health side. Through the cultivation of wisdom, benevolence, and sincerity, a student's bravery comes from the heart and is not derived out of ego or arrogance. The Pa Kua Chang fighter must do what is just and what is required when a confrontation is necessary. And when a confrontation is necessary, the response must be immediate and without hesitation.
Knowledge and skill come at a price and with an obligation. The obligation is responsibility -- the responsibility to use one's knowledge with wisdom and benevolence, to execute one's skill with justice and bravery, to uphold one's heritage with honor and sincerity, and to present one's achievements with accuracy and humility.
WEAPONS:
http://bagua.hollosite.com/products.html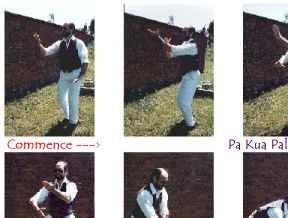 Other intersting sites for information:
http://en.wikipedia.org/wiki/Baguazhang
http://www.key-arts.co.uk/pakuachang/pakua.htm
http://www.zeigua.com/bagua/bagua_history.html