Another fantasy RPG here devised from bleams cunning mind. its a little more restrictive but its still freeform.
Rules:
No god modding
No Abuse
No Swearing
INFO: the 12 nations where once joined in the world their huge armys used to be one, now since the splitting, the 12 nations have been devided into 12 islands.
china was the most powerful country in the world before the splitting but now the nations are fighting each other in the Quest for power.
Each nation using its abillitys to defeat the others.
RACES:
Dog: The warriors of the Dog are born leaders, they can use and slightly sence the chi of others, they're well balanced in weapons and hand to hand combat. aswell as being honerable and valiant. can summon creature but not weapons.
Rat: The people of the rat are the fastest thinkers, they are also the fastest runners of the nat5ions and the only race that can totaly hide their chi.
Bull: The people of the bull are the strongest of all the nations possesing huge strength and being able to weild the larges earthly weapons.
Boar: The people of the Boar have the Highest amount of Chi out of the nations, they can out power any other race, but their chi is hard to control and can massive amounts of damage.
Snake: The people of the snake can blend in with normal people, becoming sneaky and good at hiding, but they cant conseal all of their chi.
Monkey: The people of the monkey are the best as dodging and acrobatics, using their reflexes they can hear and smell at great distances.
Heir: The people of the Heir are masters of healing and brilliant at imobilizing enemys using their medical knowledge.
Tiger: The tigers are the best at using and controling their chi, using it controlebly they also have huge amounts of strength but not as strong as the bull.
Dragon: The dragons are the masters of wards, making wards to repel of absorb attacks or making totems to attack their enemys the dragons have huge and powerfull amounts of chi but their chi stands out from miles away.
Horse: The people of the horse are masters of the Steeds, the best hunters and chi finders, they can sence every other race with easy other than the rat.
Ram: The people of the ram are the best craftsmen, their armour is the strongest ever and their weapons hold amazing powers their chi is strong but controlable.
Rooster: The roosters as the masters of seals and chimes, they can summon weapons or helpers but their chi is greatly noticable they are also the best herbalists making potions and powders for anything.
So those are the races...
every race looks human, but changes in size and build
say the people of the snake are dainty and light, while the people of the bull are huge men and women that have the mussles of a giant.
This RPG is set in china.
so chinese weapons only
sutch as broadswords, skimitars, tai chi swords, throw darts, spears glaives, bows, u cna use ur imaginations but keep in the limits.
they also have mythical creatures
sutch as dragons, huges eagles, giant tigers, great bears and other animals.
not all races wear armour you can wear robes but most races have armour designed by their race, sutch as goat armour has the appearance of a goat...
------------------------------------------------------------------
Chi - Wards - Seals - Chimes
Chi - chi is the energy, the life force in everything, some races can absorb it while some have to regenerate it themselves.
chi can be used for weapons, energy attacks normal attacks and other things...
its like chakra from naruto or spirit energy from bleach...
Chi can only be used as weapon like on dragon ball. where they fire it from hands, but u can use anywhere on your body that chi flows to fire it.
Wards: Wards are like shields, they surround an area with chi from the person making the ward
wards can do many things, drain chi, heal, hurt, hold and can even cause illusions. some wards stop chi from being used while others can increase it.
Seals: Seals like from naruto are used to unlock special abilitys or skills, some seals release locked up chi while other when used on enemys can stop chi from flowing.
Chimes: Chimes are used to increase chi greatly, only usable by some races chimes can increase chi, or speed or strength...
some chimes heal and resotre chi.
--------------------------------------------------------------------------------
thats pretty mutch it, all the islands are close together so a short ferry ride gets you from one to the other, most islands are coverd with forrests and towns, some have beaches but there are no volcanos or deserts.
there is no sides in this, every one is out to kill every one else...
NOW HERES A BIG RULE - 1 player per race. so if u want to be a tiger and so does another person discuss it amungst yourselves who gets to be it.
i wont have like 3 dragons and 1 rat playing, so 1 person per race, this will also make it more interesting that you have to deal with the abillitys you are given with your race instead of making your own.
you can make attacks your weapons your armour, your appearance, and some abillitys but major abillitys stay the same.
-----------------------------------------------------------------------------------
so finaly a chinese based game, for armour or weapon ideas visit
www.silkroadonline.net
and find the weapons and armour sets...
Name: MuRong Feng
Age: 23
Rank: Hero
Race/Nation: Rooster
Personality: Uncaring and cruel
Appearance: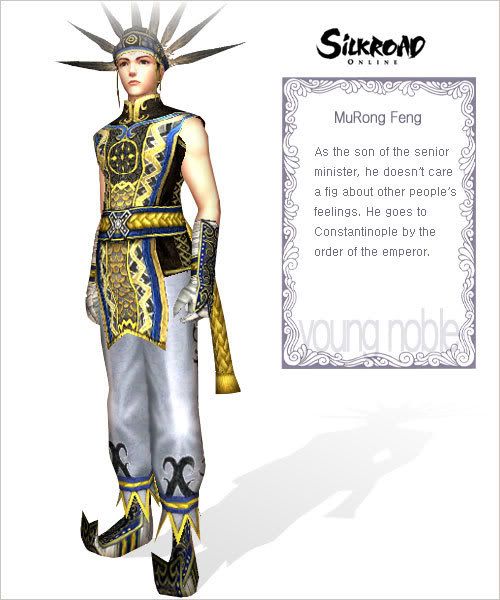 Weapons: The Iranggjingun Pike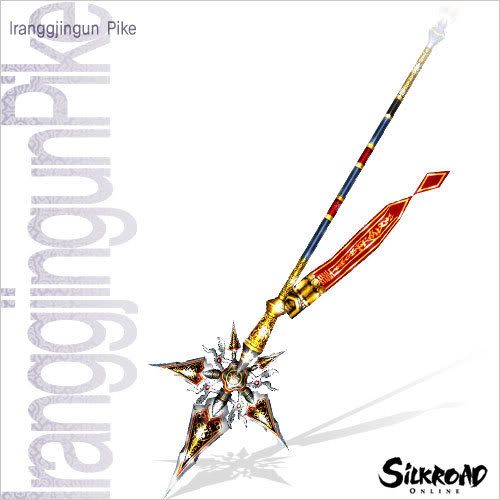 And the Rooster General Blade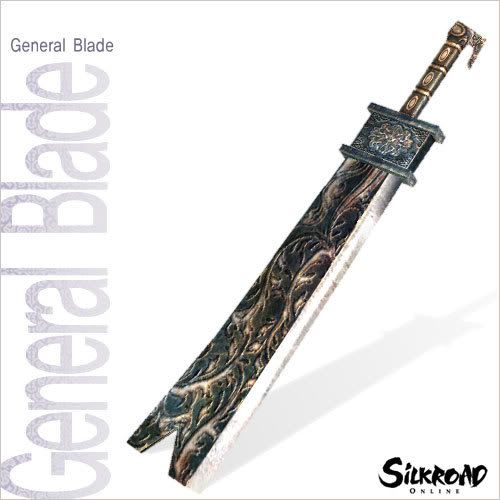 History:
MuRongs father was a high powering man when chine was conected, since its seperation his love for the emperoros has died and he now despises all other nations
Powers: Weapon summoning he doenst carry either weapon on his body, but can summon them at will.
Sheild Ward: a ward he places around himself to prevent enemy attacks from hitting him (means he can hit them either)
Healing ward: can create a bubble of healing around himself tkae time to heal though
Chi dispersal ward: causes both is and the enemys chi to almost vanish making combat harder.
Speed increase chime: makes a chime upon his pike that can increases the speed of his weapon.
Chi increase Chime: the chime placed on his left wrist that increases his chi making wards stronger and faster
Chi burst: He fires large bursts of chi at a target, only usable with a chi chime on
Dragon scale chime: Make his skin unpenatrable aslong as the chime is intact.
Weapon seal: Can seal his own or other peoples weapons in another dimention untill he summons it using the summoning skill.
Animal seal: Capture a beast in another dimention untill he summons it.
Hyeongcheon Guardian: summons a huge Hyeongcheon to protect himself, the creature is made of stone but can be destroyed using seals and chi attacks.
Hyeoncheon: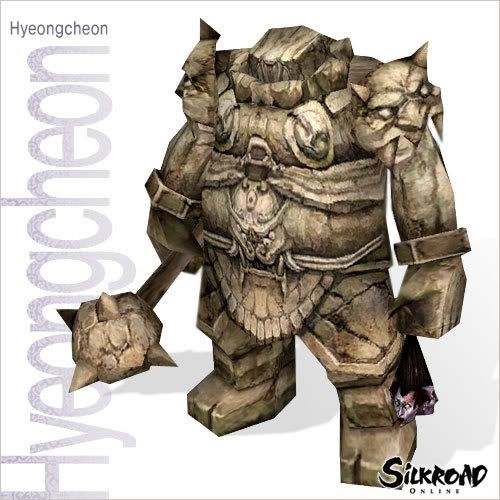 [If anyone wants weapons like the images i have i can get kewl looking images for you from the database]
A few mosnters you might encounter or fight against:
Oshi-Nago: a water leviathon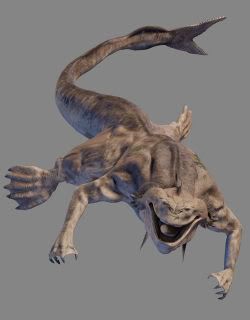 Kansho dragon: a water dragon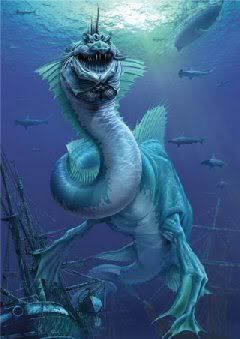 Black yeowa: a half human half snake demon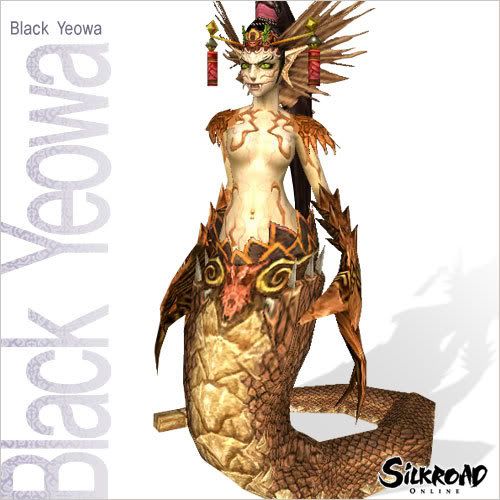 Isyutaru: a frost demon (boss)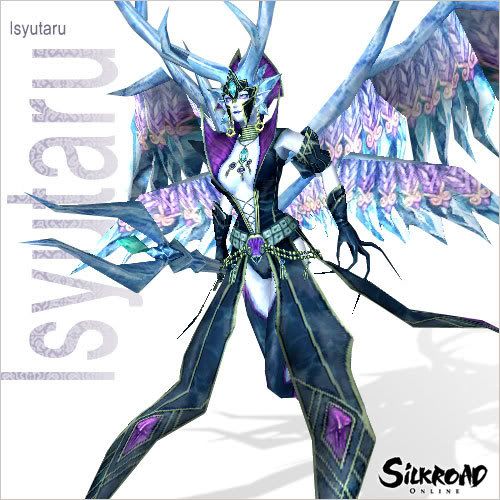 Sonar: a frost demon controled by isyutaru.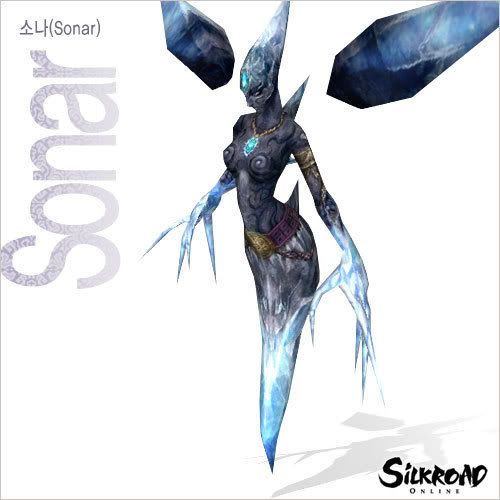 Blood Devil: A forrest demon deadly and it uses vines to capture its prey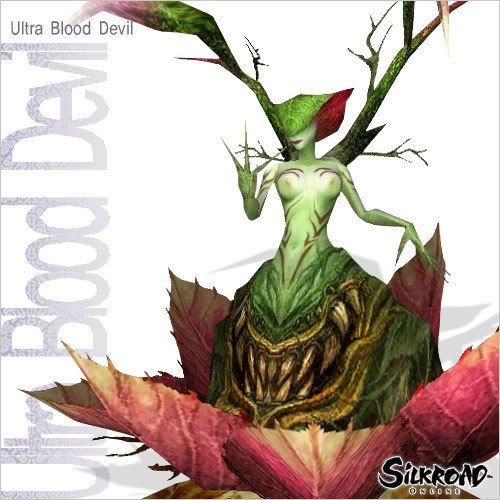 Yeti: A demon from the forrest mountains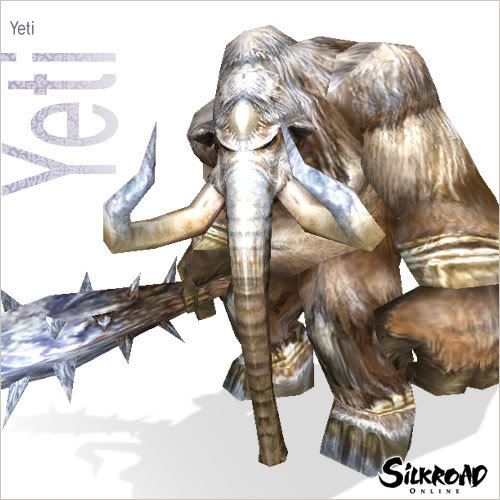 Dark kara: A flying demon found above the tree tops, huge and powerful